VA Home Loans and Mortgages
VA Home Loans and Mortgages are a great option for any veteran looking to buy a home. Learn More about the benefits this loan option has to offer below.
Beacon Lending Can Successfully Guide You Through the Home Loan Process
There are several different eligibility requirements you must meet to qualify for VA home loans. If you are not sure if you will qualify, you should speak with a mortgage loan or a VA Loan Specialist. One of the first steps toward getting a VA Loan is to complete a Certificate of Eligibility.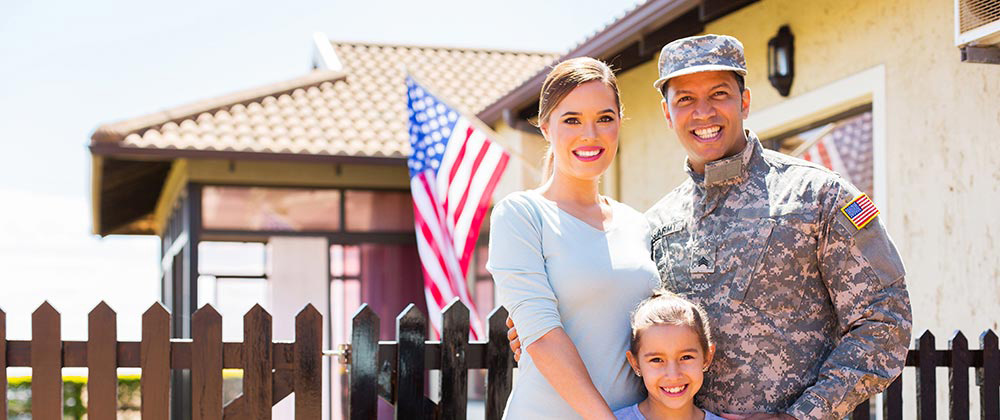 You may qualify for a VA Loan if you fall into one of the following categories:
Active-duty Veterans discharged during WWII or later, without the status of "dishonorable"
Active-duty Veterans with at least 90 consecutive days of service during major conflict
Peacetime Veterans and active-duty personnel with at least 180 days of consecutive service
Enlisted Veterans whose service began after 1980, or officers whose service began after 1981, and who have served at least 2 years.
National Guard and selected Reserve members may also qualify.
Check your eligibility with a qualified VA Loan Specialist if you have any questions.
Good News for Veterans Looking to Buy a Home!
A new bill, H.R. 299, will allow all eligible VA homebuyers and VA homeowners to borrower, either for purchase or refinance above the 2019 limit of $484,350 for most U.S counties, with zero down payment. The Blue Water Navy Vietnam Veterans Act has already been unanimously approved for any loans that are guaranteed on or after January 1, 2020. Find more information here.
What Can I Do with a VA Home Loan?
You can use your VA Loan to purchase a house, condominium, or townhouse. You can also build a home, make energy-efficient home improvements, or refinance your mortgage.
Why Would I Want A VA Loan?
There are several reasons why VA home loans may be preferable to standard loans. Most importantly, if you qualify, you may obtain a VA Loan even if you did not qualify for other loans. There may be no down payment required for a VA Loan, depending on the lender. VA Loans often have lower interest rates than conventional loans, and many times you can negotiate the interest rate with the lender. There are no mortgage insurance premiums on VA Loans, and assumable mortgages are permitted. Closing costs can be lower than other forms of financing, and there is no penalty for prepaying your mortgage. In addition, VA assistance due to temporary financial difficulty is available to those who qualify.
Buying a Home in Today's Market with a VA Loan
Are you a military service member or a veteran looking to achieve the dream of homeownership? Discover how VA loans can be your key to success in today's competitive real estate market. With their unique benefits and flexible financing options, VA loans provide an excellent opportunity to secure your own piece of the American dream.
No Down Payment: One of the most significant advantages of a VA loan is the ability to purchase a home with no down payment. While many traditional loans require a substantial upfront payment, VA loans remove this financial barrier, making homeownership more accessible than ever.
Competitive Interest Rates: VA loans offer competitive interest rates, ensuring that you can secure an affordable mortgage. Lower interest rates mean more manageable monthly payments, allowing you to save money over the life of your loan.
No Private Mortgage Insurance (PMI): Unlike conventional loans, VA loans do not require private mortgage insurance (PMI). This can save you a significant amount of money each month, as PMI is typically an additional cost that adds to your mortgage payment.
Easier Qualification Requirements: VA loans have more lenient qualification requirements compared to traditional loans. The Department of Veterans Affairs guarantees a portion of the loan, which provides lenders with increased confidence in approving applications from eligible veterans, active-duty service members, and surviving spouses.
Flexible Credit Standards: VA loans often have more flexible credit score requirements, giving you a chance to qualify even if you have had past financial challenges. While a good credit score is still beneficial, the VA loan program recognizes that military service members may face unique circumstances and provides options for those with less-than-perfect credit.
Assistance with Closing Costs: VA loans allow sellers to contribute towards the buyer's closing costs. This assistance can help reduce the upfront expenses associated with purchasing a home, making the process more affordable and manageable.
Streamlined Refinancing Options: If you already have a VA loan, you can take advantage of streamlined refinancing programs. These programs make it easier and more cost-effective to refinance your existing loan, potentially lowering your monthly payments or obtaining a better interest rate.
In today's competitive housing market, VA loans provide a powerful tool for military personnel and veterans to achieve their homeownership goals. Whether you're a first-time homebuyer or looking to upgrade to a new home, explore the benefits of VA loans and seize the opportunity to make your homeownership dreams a reality. Contact a VA-approved lender today to learn more about the application process and start your journey toward owning a home without delay.
Discover Your Ideal Home: Best Places to Utilize a VA Loan for Homeownership
When it comes to using a VA loan to purchase a home, several locations across the United States offer a great combination of housing options, amenities, and support for veterans. Here are some of the best places to consider when using a VA loan:
San Antonio, Texas: Known for its vibrant culture, affordable housing market, and military-friendly environment, San Antonio is an excellent choice for veterans. The city is home to several military bases, including Joint Base San Antonio, providing ample opportunities for employment and a strong support network for veterans.
Colorado Springs, Colorado: Nestled in the beautiful Rocky Mountains, Colorado Springs offers a high quality of life and a strong sense of community. The city boasts stunning natural scenery, a robust job market, and numerous outdoor recreational activities. With the presence of the United States Air Force Academy and Fort Carson, it's an ideal location for military families.
Jacksonville, Florida: Located along the Atlantic coast, Jacksonville is a thriving city with a strong military presence. It is home to Naval Air Station Jacksonville and Naval Station Mayport, providing a range of career opportunities for veterans. The city offers a diverse range of neighborhoods, affordable housing options, and a mild climate that attracts many veterans and their families.
Raleigh, North Carolina: Raleigh, the capital of North Carolina, consistently ranks among the top cities for veterans. The region is known for its booming economy, excellent educational institutions, and ample recreational activities. It is home to several military installations, including Fort Bragg and Seymour Johnson Air Force Base, providing a strong support system for veterans.
Seattle, Washington: While the cost of living in Seattle is higher than some other cities, it offers a vibrant urban lifestyle and abundant opportunities for veterans. The area is home to Joint Base Lewis-McChord, providing a significant military presence. Seattle boasts a strong job market, diverse neighborhoods, and a thriving arts and culture scene.
Nashville, Tennessee: Known as the "Music City," Nashville has become a popular destination for veterans seeking a vibrant and affordable place to call home. The city offers a low cost of living, strong job market, and a rich cultural heritage. With the presence of Fort Campbell and the Tennessee National Guard, veterans can find a welcoming and supportive community in Nashville.
Phoenix, Arizona: With its warm climate, affordable housing market, and abundant amenities, Phoenix is an attractive destination for veterans. The city is home to Luke Air Force Base and offers a diverse range of neighborhoods and communities. Phoenix boasts a robust job market and a wide array of recreational activities, including hiking, golfing, and professional sports.
Remember, these are just a few examples of locations that provide favorable conditions for veterans using VA loans. Each individual's preferences and circumstances will vary, so it's essential to research and explore different areas based on your specific needs and interests. Consult with a VA-approved lender and real estate professional to help you navigate the homebuying process and identify the best places to utilize your VA loan for homeownership success.
A Summary of VA Home Loan Benefits
No Down Payment up to $417,000 loan amount
No Private Mortgage Insurance
Affordable Interest Rates
Variety (Adjustable or Fixed)
Closing Cost Limits
No pre-payment penalties
Loans up to $1,100,000 with limited down payment
Easy Qualifying Process
For more information, view an in depth article on VA Home Loan Benefits.