In today's world, the question of mobility comes up frequently. "Where do you want to live" is a question that every new college grad is asked and every empty-nester couple also devotes a significant amount of time to think through. With the rapid growth of remote workers and freelancing, more and more people can choose to live wherever they would like.
Where we live defines what our lives are like and what we do on a day-to-day basis. It's perhaps the most important decision you'll ever make.
The reality is that people look for specific things when they're searching for the right area to call their home. Young college grads look for entry level jobs, affordable housing, and good weather. Newly weds look for something similar, while couples with children will always chase the best school districts. Retirees hunt for weather, low taxes, and the ideal lifestyle.
With such a diverse set of needs, it's no wonder that very few places in the country can accommodate the needs of every type of individual. After all, Florida is well-known for being an ideal location for retirees but New York City certainly has more opportunities for entry level jobs than Florida. The East Coast has some of the best public schools in the nation, but the cost of living can be extremely expensive for most young parents.
But, there is one place that could cater to everyone and offer their own ideal type of living. In fact, it just might be the perfect place for you.
Enter: Bluffton, South Carolina
One of the fastest growing areas in the country, Bluffton, provides the ideal place to live for all individuals. In fact, the population has nearly doubled over the past ten years and shows no signs of stopping as more and more people learn why it is the ideal place to move to and buy a new home.
With a fast-growing population comes a vibrant and exciting downtown with plenty of new shops, stores, restaurants, and bars. The culture is vibrant, and continuing to evolve as more people come in.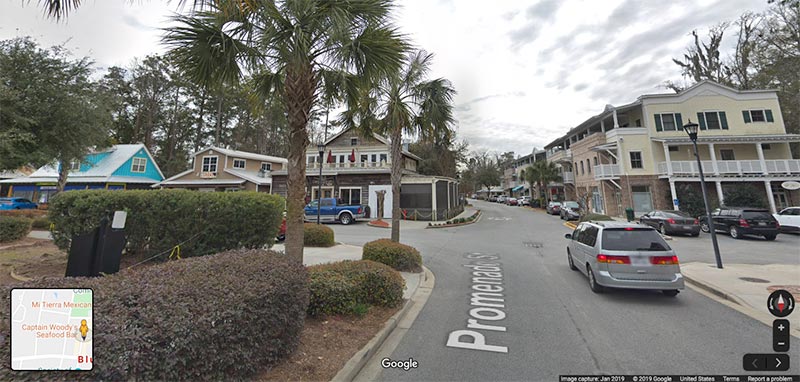 Where Exactly is Bluffton, SC?
Bluffton, South Carolina lies just west of the popular destination Hilton Head, SC. If you take highway 278 west for about 8 miles you will find this gem of a town on the south side of the highway. From Charleston, SC it will take you about 2 hours if you travel along highway 21 & 17 through Beaufort, SC.
This in-depth guide will explore a few specific sections that anyone should think about if they're currently considering living in the Bluffton area. First, the guide will explore five reasons why you should live in Bluffton. Secondly, the guide will discuss housing options in Bluffton and why you should consider buying a house in the area.
Five Reasons why you should live in Bluffton
Plenty of fantastic, well-paying jobs
The Bluffton area is home to plenty of companies who look to hire talented employees for a great wage. In fact, Indeed.com, the popular jobs board, shows that there are nearly 7,000 full-time jobs available within the Bluffton area.
Not only are jobs plentiful in the Bluffton area, but they high paying as well. According to Niche, the median income in Bluffton is $70,000. When the national income is $55,000, that means the Bluffton jobs are well above the median national income and very well paying.
Beautiful climate/weather in Bluffton
If you've ever spent any time in the Bluffton area, you'll immediately understand this point. There is perhaps no area in the country that is more beautiful, warmer, or more moderate climate than Bluffton.
The Bluffton weather can best be described by the word pleasant. You'll find a comfortable temperature in the 60-70 degree range for most of the year, and an average of only five inches of rain a year.
In other words, it's paradise!
Great schools
While parents are the ones who typically focus the most on schools, it's in everyone's best interests when the school system is strong. Fortunately, the nine local Bluffton public schools are some of the top schools in the state.
Your children will be well taken care of at Okatie Elementary School and will graduate as members of the Bluffton High School Bobcats.
Low Crime Rate
An important consideration for any place to live is what the local crime rate is. After all, no one wants to live in an area that has any crime. Even more importantly for homeowners, crime rates have been proven to play a significant role in property values. When crime, especially violent crime, increases, then property value decreases.
Fortunately, Bluffon is significantly below the national average on every major crime statistic. From a murder rate of 0%, to a robbery number that's paltry compared to the national number, you and your property will be safe in Bluffton.
High Quality and Affordable Housing
Bluffton enjoys the benefits of having many fantastic home builders in the area who consistently produce fantastic, high quality residences for everyone in the area. But despite these high quality houses, the median property value is consistently low and around $244,000.
Due to these low prices combined with high quality homes, more than 75% of residents have chosen to purchase and own their own homes in the area.
Buying a home is affordable in Bluffton
By now, you should be excited about the idea of living in Bluffton. After all, it's a fantastic location that is hard to beat for any individual!
Buying vs Renting a Home in Bluffton
But, just deciding to live in an area is just half the battle. Now, you need to decide whether you would like to buy or rent. The next section of this guide will talk about how buying a home in the Bluffton area might be right for you.
The first thing to realize about Bluffton is, just like how the town is perfect for every kind of individual, it also has the perfect housing for every kind of buyer. Said differently, no matter what house and living experience you would like, you could find it at an affordable price somewhere within the Bluffton area.
For example, let's say you are looking for a fantastic entry level property as a young married couple. There are now over 100 properties, according to Zillow, that are for sale at $200,000 or less.
This pricing, with a 20% downpayment, could lead to a mortgage payment of roughly $1,000 a month. Remember, the median income in the area is $70,000. That means most people can very easily afford a monthly mortgage payment on these entry level properties.
You might be thinking, however, that these properties will end up needing a lot of work. In fact, nothing is further from the truth. At this $200,000 price range, you'll find brand new properties that are "turnkey," a real estate term meaning ready to be used. All you need to do is "turn the key" and move in!
The other alternative, obviously, to buying is renting in the area. However, as mentioned above, at least 75% of individuals in the Bluffton area end up buying rather than renting.
There are many reasons most end up defaulting to buying, with a significant one being the low price of buying. A quick search on any rental site will tell you that a property for rent will cost at least $1,000 a month. However, remember that your mortgage would cost a very similar amount.
In that case, why would you be interested in renting when you could buy and start building equity?
Remember, real estate is an investment
One thing that's easy to forget is that real estate, and your primary residence, is often a family's single largest investment. Homes are assets that can make you a rather significant amount of money.
While there are a lot of ways to make money with real estate, the primary way one would make money with their primary residence is through appreciation. This means buying that house at $200,000 and moving into it today. Ten years from now, you move out as your family needs a bigger property. In the process, you sell your house you purchased for $300K.
In other words, you made $100,000 for doing nothing but living in your home and enjoying life in the process.
A couple of things need to happen in order for appreciation to happen to you. One is directly under your control, which is how well you take care of the house. If you don't damage the property, then someone else might be interested in whether or not they can buy it.
But the more important factor in whether or not the value of a home goes up or not is based on whether the area has become more or less attractive for a buyer to move to. Many individuals tend to assume this is entirely out of their control.
However, there are things you could do to help influence whether or not your property will appreciate. For example, buying in a fast-growing area is a much better bet your property will appreciate than a buying in a slow-growing area.
Remember, Bluffton is growing incredibly fast and has doubled in population over the past decade. While that doesn't guarantee appreciation, it does help increase your odds that a real estate purchase will end up becoming a profitable investment for you.

The Downside to Renting in Bluffton
Renting would not allow you to take part in this rapid growth. You could rent for the decade in which you live in that first property, but you couldn't sell the property upon leaving. In our hypothetical example, this could mean missing out on $100,000
After all, just ask broker Allison Cobb of The Cobb Group what has happened to the desirability of Bluffton real estate recently.
"Bluffton has grown so quickly and has become a destination in itself. It used to be that Bluffton was just a side market to Hilton Head. But nowadays, more and more people don't want to cross the bridge, and they don't need to with all the stores, restaurants and amenities in Bluffton."

Allison Cobb
Where should I buy in Bluffton?
Now that you've decided that Bluffton is the place for you, and that you've decided to buy, it's now time to think about where within Bluffton would be right for you.
As we've talked about, Bluffton is an ideal town to live in. However, there are dramatically different areas within the town that you should consider.
Downtown Areas: Calhoun and Stock Farm
These areas are attractive if you want to be walking distance to all the fantastic shops and delicious restaurants that have popped up in town. If you still want that downtown vibe, but instead prefer a cottage vibe, then perhaps the Stock Farm area would be right for you.
Buckwalter Parkway Offers a Great Area for Families
If you have a young family, then the best area for you to look would be along Buckwalter Parkway. Here, you'll find safe and quiet streets and neighborhoods perfect for raising children. While all of Bluffton is perfect for kids, you cannot go wrong with any of these neighborhoods as you consider where you'd like to move.
Waterfront Property
If you'd like a spot along the water, then you'd look to property that borders the Colleton or May Rivers. The May River is on the southern side of town just south of highway 46. The Colleton River lies to the north side of town, north of highway 278.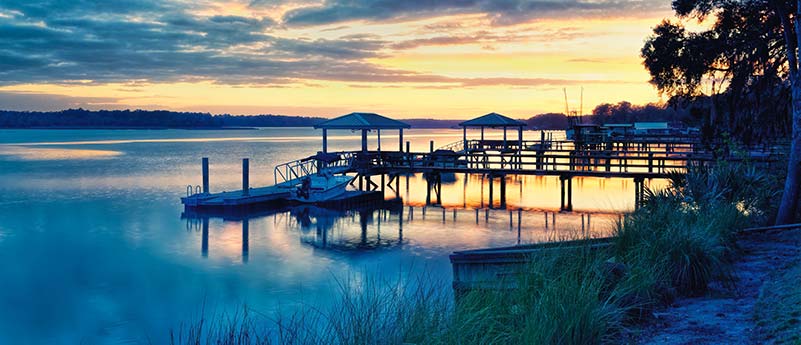 Gated Communities in Bluffton
Alternatively, there are plenty of gated communities like Hampton Hall or Belfair or Berkely Hall. These gated communities often have their own recreation facilities, golf courses, or maybe private clubs.
These properties can end up asking millions of dollars to buy. While that price is definitely high and unaffordable for many, it certainly speaks volumes as to how desirable a place Bluffton is. After all, many people who can afford to live anywhere have chosen to live in Bluffton!
Helpful Resources for you to consider about buying within Bluffton
Our hope is that this guide has made you excited about the idea of buying a property in the area. If you would like to go down this path, then below are a few resources you could find helpful.
A great first step is to just visit the town and experience exactly what makes the Bluffton area so special. Taking the time to drive through town, eat a meal in one of the new restaurants downtown, or stop by the high school and catch a football game could all help you realize that Bluffton is the ideal place for you and your family.
If you decide that you'd like to seriously explore the idea of living in Bluffton, then engaging with a real estate agent is a great first step. They can help you think through the process of moving to Bluffton and what different housing options could look like.
All agents will ask for you to get pre-qualified as part of your buying process. That means a mortgage professional has completed a first look at your financials and will issue you a letter that states you are likely to be qualified for a mortgage. To do so, you'll want to work with an expert who understands the Bluffton market.
For example, Brian Quigley of The Mortgage Network will be a helpful resource for you during your home buying process in Bluffton. He can issue you a pre-approval letter as you search and work with a real estate agent. As you consider different purchase options, Brian can be there to help you consider different loan options while also securing you the lowest rate possible.
Bluftton could be the perfect setting to a fantastic life
Within this guide to Bluffton, we've walked through a couple important considerations that could be helpful to think about as you debate where you want to live. To accomplish this thought process, this guide has:
Discussed why Bluffton is the ideal place for you to live. In this discussion, the large number of jobs, great weather, safe environment, and fantastic schools were all referenced.
Next, we discussed how Bluffton has high-quality and affordable housing that any buyer would find attractive to live in
Afterwards, we discussed how a property purchase in Bluffton could allow you to quickly make money as the property will likely appreciate in value. If you were to rent, you unfortunately would not be able to take advantage of this incredible appreciation growth.
Then, we discussed different neighborhoods you could explore buying in and why each one is appealing
Finally, we talked about different local resources who could help you within your home buying process
Everyone who lives in Bluffton truly loves it, and is excited about the idea of the thriving community continuing to grow. If the area sounds right for you and your family, then it just might be time for a visit as you come and learn even more about what makes Bluffton such a fantastic place to be.