Beacon Lending Can Successfully Guide You Through the Home Loan Process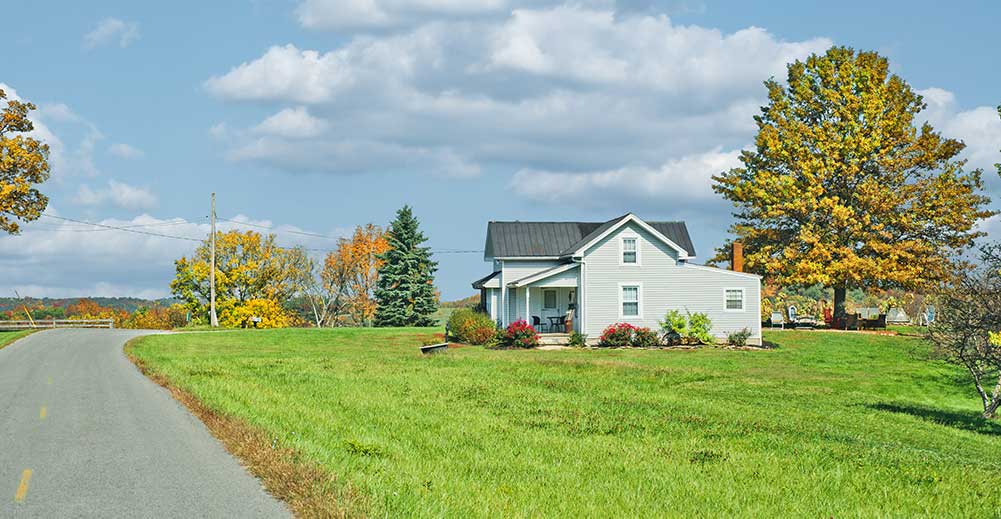 What Exactly are USDA Home Loans?
USDA home loans are mortgages backed by the US Department of Agriculture (USDA) which provides the guidelines and requirements for these home loans. They are intended to help people purchase homes in suburban and rural areas through lower rates and down payments. It may also be referred to as the Rural Development Loan.
Requirements & Eligibility
Primary Residence
In order to qualify for a USDA loan it must be used as your primary residence. If you are looking for a home loan on an investment property or second home this is not the type of loan for you. If this is the case you may want to consider a Conventional Loan.
Citizenship
You must be a United States Citizen or have permanent residency in the United States in order to qualify for a USDA loan.
Location of Property
The location of the property is crucial to whether or not you are eligible for a USDA home loan. The property must be in an area designated by the USDA eligibility maps. You can check to see if the property is eligible by using their online tool.
There is a good chance that the eligibility maps could be updated in the fall of 2020.
Credit Score
As with any mortgage you will apply for you will need a good credit score. The better the credit score the easier it will be to qualify. USDA loans typically require a credit score of 640 or better.
A better credit score may mean getting approved with a higher debt-to-income ratio. It can also lead to lower interest rates.
Debt to Income Ratio (DTI)
A debt-to-income ratio of less than 41% is needed to qualify for a USDA home loan.
Income Requirements
You will need to prove stable income through pay stubs and tax returns for up to the last two years. They will also want to know that the income is expected to continue so you should be able to provide a letter from your employer or a contract.
USDA home loans typically require that no more than 29% of your income will be used to pay your mortgage statement each month. That includes the principal, interest, and escrow.
USDA loans are intended to help lower income families purchase homes and therefore they do have income limits. Your total income cannot exceed 115% of the median income in the area of the property.
Why USDA Home Loans are Appealing
0% Down Payment
The most notable perk to obtaining a USDA backed home loan is the fact you can qualify with a 0% down payment. One of the goals of these government backed loans is to make it easier for people to purchase homes and removing the barrier of large down payments is one way the USDA has addressed this.
VA home loans are also backed by the government and offer 0% down payments. If you do not meet the eligibility requirements for a VA home loan then a USDA home loan is another option for 0% down payment options.
Compared to FHA and Conventional Loans this is a great way to go. FHA Loans require a minimum of 3.5% and Conventional Loans require minimum 3% down payments.
Low Closing Costs
There are options that allow the buyer to close with very little closing costs.
Option #1 – have the seller pay the closing costs for up to 3% of the purchase price.
Option #2 – is funds gifted from a family member.
Option #3 – use excess funds from the appraisal. For example, if the property appraises for $110,00 and it is being purchased for $105,000 then you can finance the additional $5,000 to help with closing costs.
Lower Mortgage Insurance
Compared to Conventional Loans the mortgage insurance you will pay on USDA loans is much lower. The mortgage insurance is a maximum of 1% of the purchase price and it will be included on your monthly payments. These funds are used to help fund the USDA home loan program.
Can I get a USDA Loan without the mortgage insurance?
No, if you are able to make a down payment for 20% of the purchase price then you will not qualify for a USDA mortgage. These home loans are intended for people who do not have the assets needed to qualify for other types of home loans.
The benefit is that this 1% maximum is typically much less than the private mortgage insurance (PMI) that is added to most Conventional Loans. The difference is that a Conventional Loan will allow you to remove the mortgage insurance once you have paid off 20% of the value of your home.
Harvesting Homeownership: Best Locations to Harness the Benefits of USDA Loans
If you're considering a USDA loan to achieve your dream of homeownership, certain locations across the United States offer ideal conditions for utilizing this unique financing option. USDA loans, backed by the U.S. Department of Agriculture, provide affordable mortgages with favorable terms for eligible individuals in designated rural and suburban areas. Here are some of the best locations, including Florida, Texas, and Colorado, to consider for using a USDA loan:
Florida Sunshine: While Florida is known for its popular coastal cities, it also boasts rural and suburban areas that qualify for USDA loans. Explore locations like Gainesville, Ocala, or rural communities in northern Florida. These areas offer a more laid-back lifestyle, proximity to natural attractions, and the chance to enjoy the famous Florida sunshine.
Texas Heartlands: The vast state of Texas features numerous rural areas that are eligible for USDA loans. Consider towns such as Lubbock, Amarillo, or Waco, where you can experience the charm of Texas heartlands. Enjoy a slower pace of life, friendly communities, and the opportunity to embrace the Lone Star State's cultural heritage.
Colorado Mountain Retreats: While Colorado is known for its breathtaking mountain ranges, it also offers rural and suburban areas that qualify for USDA loans. Explore communities like Montrose, Cañon City, or the San Luis Valley region. These locations provide a chance to immerse yourself in the beauty of the Rocky Mountains, outdoor recreational activities, and a close-knit community atmosphere.
Midwest Heartland: States like Iowa, Nebraska, Kansas, and Missouri offer vast stretches of rural and suburban areas that are perfect for USDA loan eligibility. These regions showcase charming communities, abundant farmland, and a strong sense of community. From the rolling fields of Iowa to the friendly small towns of Kansas, the Midwest Heartland presents numerous opportunities to settle down in a peaceful and affordable environment.
The Great Plains: States such as North Dakota, South Dakota, and Montana offer picturesque landscapes, wide-open spaces, and a wealth of natural beauty. These areas provide a haven for those seeking a serene rural lifestyle. USDA loans can help you put down roots in communities where neighbors know each other by name and where vast prairies and majestic mountains form a breathtaking backdrop.
Southern Charm: Southern states like Mississippi, Alabama, Louisiana, and Arkansas have rural areas that qualify for USDA loans. These regions showcase warm hospitality, rich cultural heritage, and a slower pace of life. From historic towns to tranquil countryside, the Southern Charm of these locations offers a desirable blend of affordability and Southern living.
These locations, including Florida, Texas, and Colorado, present wonderful opportunities to utilize USDA loans and achieve homeownership in desirable rural and suburban areas. Remember to explore the USDA eligibility maps and consult with a USDA-approved lender to determine specific areas that qualify for this type of financing. Embrace the opportunity to find affordable homeownership in these regions, where rural and suburban settings combine with the benefits of USDA loans to make your dreams come true.
Is a USDA Home Loan Right for You?
Hopefully this article has provided helpful information for any home buyer thinking about applying for a USDA mortgage. It is always a good idea to consult with an experienced mortgage broker to know exactly what your options are. Brian Quigley has been helping people in Colorado qualify for the mortgage that suits them the best for 17 years. If you have questions please contact Brian today at (720) 524-3215.
Please keep in mind it is best to get pre-qualified before you start shopping for homes so you know your price range. When you do find a home you like you are able to move fast and your offer may be more appealing to the sellers if you are pre-qualified.