With government-backed mortgage plans, buying a home without paying a large chunk of a down payment may only seem possible. However, government-sponsored agencies such as Freddie Mac and Fannie Mae have programs that provide low-deposit loans. These are the Freddie Mac Home Possible and Fannie Mae HomeReady mortgage programs.
These programs offer a 3% down payment or a 97% LTV (loan-to-value) on conventional loans. These are the typical loans issued by most lenders in the mortgage market. Home Possible and HomeReady programs allow borrowers to put down a small down payment. The key difference is their credit score requirement. – HomeReady requires a score of 620, while Home Possible asks for a 660 credit score – which could potentially affect your eligibility for the mortgage.
What is Fannie Mae's HomeReady Loan?
HomeReady by Fannie Mae is a mortgage loan program offered to both new and repeat homebuyers with a credit score of at least 620. With flexible down payment requirements, borrowers only need to pay a 3% down payment on a single-family house, and that amount can partly or entirely comprise a grant or gift. This option is ideal for first-time homeowners who cannot put large sums of money as deposits. The 3% down payment requirement is less than the Federal Housing Administration (FHA Loans) percentage for loans, which is 3.5%. Similar to other traditional mortgage loans, borrowers will have to account for the private mortgage insurance (PMI) if a down payment of less than 20% is made on the HomeReady loan.
To make matters easier, the insurance premiums are reduced for borrowers who qualify for Fannie Mae's loan, allowing them to keep the monthly payment much lower than a traditional loan.
The HomeReady income limits can vary. Besides the main source of income, various other forms of earnings can be used to become eligible for the mortgage, such as a co-signer's income or a roommate's earnings. If the initial 3% down payment is paid, then there is a high possibility of adding a renter's income which could further simplify the process.
The income limitations of HomeReady are determined based on geographical location. Underserved areas have no such income restrictions, while properties in designated disaster and high-minority areas have a limitation of 100% of the area's median income.
Key Features And Highlights Of The Fannie Mae HomeReady Loan
A 3% down payment is required.
Lower PMI premiums.
Sources of the down payment can include liquid cash, gifts, grants, and money from other assistance programs.
Ability to use earnings of non-occupant co-borrowers to become eligible.
Earnings of a roommate can be shown to improve the chance of eligibility.
Rental income from a mother-in-law unit or basement unit can be shown.
Benefits of the HomeReady Loan
The HomeReady loan is Ideal for first-time homebuyers as it requires a 3% down payment which can be sourced through different options. It also favors those individuals earning a salary equal to or less than 80% of the area's average income.
First-time buyers or those with no prior credit score are required to complete a Homebuyer education course from an eligible source. This equips new homebuyers with all the necessary information that will help them navigate through the process a lot more smoothly.
The freedom to make the down payment with cash on hand is perhaps one of the main advantages of Fannie Mae's HomeReady program. A lot of people save their liquid cash at home rather than at the bank. The majority of mortgage plans require the borrower to open a traditional current or savings account, deposit their cash and wait for a minimum of 2 months, after which they have to show their bank statements. On the other hand, HomeReady allows applicants to apply immediately with certain security verification checks. Despite that, the process is still a lot faster and more convenient.
HomeReady by Fannie Mae also offers special assistance to people with disabilities. This includes giving them the flexibility to use a non-resident co-borrower when applying for the loan. Moreover, public servants such as healthcare employees, teachers, firefighters, and military personnel are also allowed to benefit from special flexibilities, like the use of part-time and overtime income, to help them qualify for the loan. These loans do not require any manual underwriting.
How to Qualify for a Fannie Mae HomeReady Loan?
To qualify for Fannie Mae's HomeReady loan, you should satisfy the program's income limits, take a homebuyer's education course, and have a credit score of 620 and above. The application's exact requirements might differ depending on the lender you contact, but the basic requirements are the following.
Applicants must not earn over 80% of their Census tract's average income.
The applicant should complete a 4 to 6-hour homebuyer education course.
The house to be bought should be used as the main residence.
The debt-to-income ratio must not be more than 50%.
What is Freddie Mac's Home Possible Loan?
Freddie Mac provides Home Possible mortgage loans to new and repeat homebuyers with a minimum credit score of 660. In the absence of the required score, an applicant might still qualify based on alternative credit information, but the down payment will go up to anywhere between 3% to 5%. Similar to the HomeReady loan, the Home Possible loan also offers discounted private mortgage insurance payments until the outstanding balance is paid off to a minimum of 80% of the asset's value.
Besides the 3% down payment, Freddie Mac's Home Possible income limits offers flexible options to increase ownership for borrowers. For example, co-borrowers who do not reside in the house can also be included in a one-unit residence. Moreover, potential homeowners also have the option to have another financed property with more convenience and competitive pricing. Another important feature of the Home Possible mortgage program is that the down payment can be financed through a grant or gift, provided you can make ample money at the closing.
Key Features and Highlights of the Freddie Mac Home Possible Loan
Offers a 97% loan-to-value ratio to low and moderate earners.
It can be used to purchase a single unit of land for a "no cash-out" refinancing of a current loan.
Available for long-term at a fixed rate, such as 15-, 20, and 30-.
Potential homeowners must undergo an education program before they can qualify for the loan.
Benefits of the Home Possible Program
The Freddie Mac's Home Possible loan is ideal for first-time and repeats homeowners with limited money to secure a down payment. The flexibility in the sources of the down payment is a bonus that can make eligibility a lot easier and straightforward.
Home Possible mortgages cover many residence types, including condos, 1 – 4 dwelling units, and planned-out developments.
PMI can be entirely canceled if the loan-to-value ratio is less than 80%. Loans with an LTV of more than 80% are subjected to credit fees, which are still less than regular fees.
How To Qualify For A Freddie Mac's Home Possible Loan?
There are zero income restrictions in low-income census tracts, while other tracts require eligible applicants to earn more than 100% of the area median income. The main requirements are as follows:
A credit score of 660 or higher.
A debt-to-income ratio below 43%.
A steady source of income and stable employment.
The total household income is above 80% of the applicant's area median.
The applicant must use the house as the primary residence.
At least one of the buyers should enroll in a homeowner's education course if all occupying borrowers are first-time buyers. Course participation is also necessary if the borrower's credit history is decided through nonconventional payment records.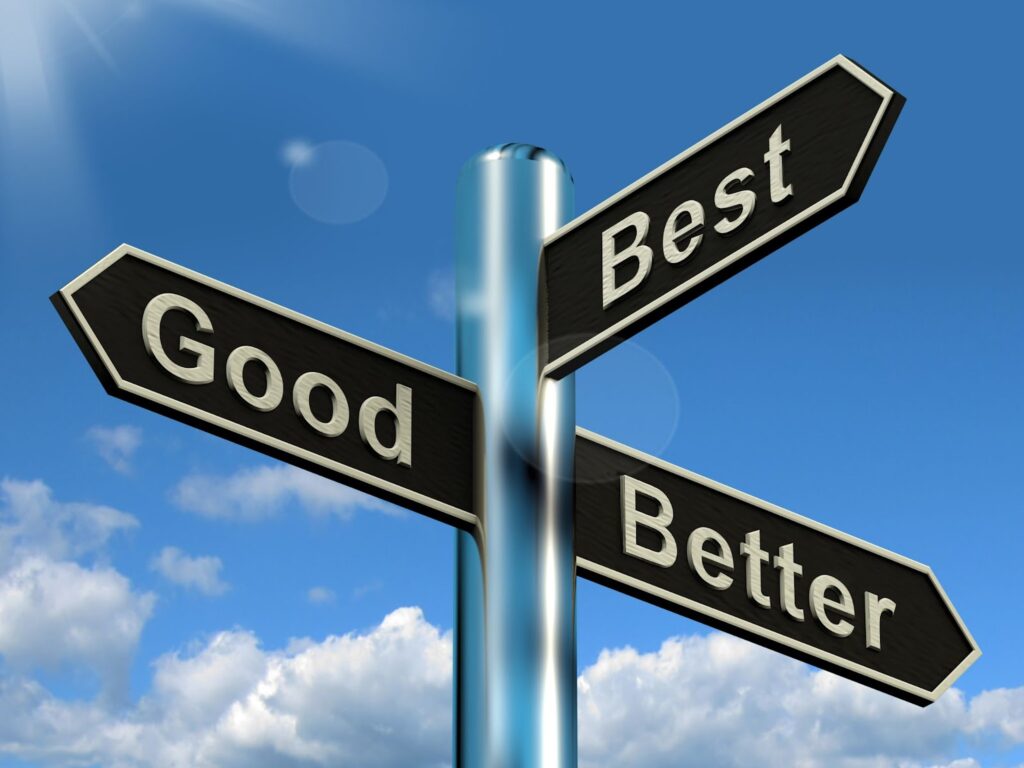 HomeReady vs Home Possible: The Similarities and Differences
Both Fannie Mae's HomeReady and Freddie Mac's Home Possible are designed to offer borrowers a low down payment rate as well as the flexibility of source. Let's take a look at how these two programs fare against each other.
Borrower Contribution
For buying a single-family home, both programs ask for the same requirements. You will need to make a 3% down payment that can be financed through a grant or gift. However, the requirements for purchasing a multi-family unit differ and become more complex. With HomeReady, you will need a minimum contribution of 3% of the total asset value. This means the funds will have to be organized without external help. On the other hand, Home Possible imposes no such restriction on purchasing a multi-family house. You can still finance the down payment through external sources and move ahead with the process.
Property Occupation
Both HomeReady and Home Possible require the borrower to use the house as their primary residence. However, there is an exception to this rule. An individual can become a co-borrower via a loan program without residing in the house. Even though it is expected that at least one of the buyers to reside on-site, all involved buyers are not required to do the same.
Source of Income
As a beneficiary of either HomeReady or Home Possible, you must be making 80% or less of your AMI. For example, if your specific area has an annual median income of $150,000, you must make $120,000 or less to make to qualify. You can also consider broader income as part of your mortgage application for both programs. However, with HomeReady, you can benefit from more income flexibility by seeking the assistance of a family member or friend, regardless of whether they are also borrowing with you. By considering non-borrower income, Fannie Mae allows you to take advantage of that added push that could make or break your eligibility.
Homeowner Education
Both Freddie Mac and Fannie Mae have a mandatory requirement for homebuyers to complete an education course. This homeownership program is only mandatory when the borrowers are first-time buyers or do not have a previous credit score. The Fannie Mae program comes with a $75 price tag, while the Freddie Mac course is free of charge. If you have opted for Home Possible, you can skip enrolling in the course, provided that you or one of the other borrowers have been a past homeowner.
HomeReady vs. Home Possible – Quick Comparison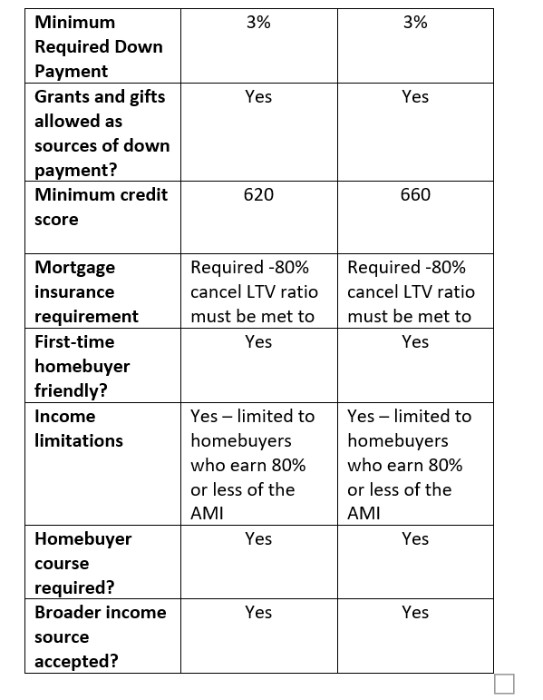 HomeReady Or Home Possible – Which Mortgage Program Should You Choose?
Both HomeReady and Home Possible mortgage programs are ideal for people who do not have large sums of money available for making down payments. They allow you to avoid big payments while benefiting from the features of a traditional loan, for instance, cancelable mortgage insurance.
For the most part, both programs are very similar, with slight differences in the requirements. The credit score requirement is the most important difference that could impact your eligibility. If your past credit record is solid (660 or above), then you can easily consider applying for HomePossible. However, if your credit score is between 620 and 660, then HomeReady is the right choice.
Whichever option you choose, it is best to do proper homework and consider aspects such as the source of income, debt-to-income ratio, and credit score. Since the differences between the two programs are not very significant, your chosen program will largely depend on your financial situation.
If you have any questions on both of these great first time home buyer programs that we did not touch on, you can call us anytime at 720-524-3215 for a hassle-free consultation or visit us on the web at www.beaconlending.com
About the Author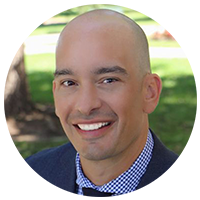 Brian Quigley
NMLS# #244003
Brian Quigley has been in the Denver mortgage industry since 2003. Customer satisfaction has been his top priority while guiding clients through the home loan qualification process. He is proficient in all types of mortgage financing including FHA/VA, Conventional, USDA, Jumbo, Portfolio, 1031 Exchanges, Reverse Mortgages, Refinancing, Construction loans, and FHA 203K loans.
View Full Profile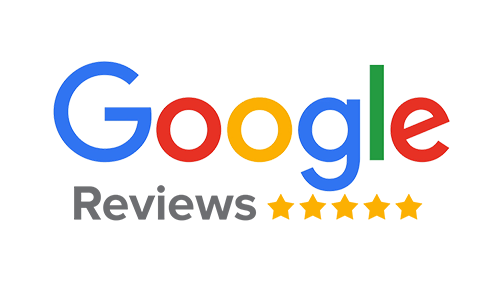 Adam Armstrong
Getting the lowest rate was the most important thing to me. I shopped 5 other lenders/brokers for my refinance. Brian was able to beat the other lenders by a significant margin....
Brent Galas
Brian, was very easy to work with for my refinance even thru this Covid time. All documents were easy to upload electronically and his processor was detailed for what was needed...
Jerred Lane
Brian has raised the bar to a whole new level. With time being precious, there are not many who have a lot of time to spare; he kept everything on point and on track.
NEED HELP NOW CLOSING YOUR HOME LOAN?
Mortgage Industry News and Information